Had to get back on here if for no other reason than to have something other than a horse's choad staring directly back at me!

It's been an eventful past week and 1/2 or so for the Wuffy family. We're all moved in our new abode and life is good as a Cary-ite so far. Thanks to East of Here for spewing some brilliance in my absence here.

I didn't have cable TV set up for most of last week, thus I didn't catch much hockey action. From the looks of it, I didn't miss much Hurricanes wise as they continue their lose 3, win one, lose 3 trend.

Every Caniac out there seems ready to offer their reasons why this team isn't clicking. It's the casual co-worker who stops by your office with the "Damn man, what's wrong with the Canes?" spiel. Then there's the "esteban1949" type who apparently hit refresh on Lord Stanley's Blog once every 30 seconds waiting to comment with his optimistic approaches. Old COI friend Pokecheck is more of your pessimist here within the Canes' recent slide, eating rats and ready to give away her tickets after a loss.

Myself? I'm still undecided at this point about the team. The talent is present (enough) on the Canes to challenge near any team in the NHL. A lot of people here lately are ready to throw Jimmy Rutherford under the bus. With all he's done and the respect he can garner among the league - not to mention his longstanding relationship with Peter K - Jim is here to stay. Fuhgeddaboutit if you think there's a chance he'd get canned.

If there is one thing he's been able to do over his tenure, it's ice a quality team that glides under the league average. Note Bubba's great post @ Canes Country the other day regarding this specific topic of personnel expectations.

Justin Williams - ye of the injurious fate - returns to the fold this week hoping to stay healthy for a change. It doesn't get much more unlucky for the kid as he tore his ACL last winter, returned to hurt his back immediately months later and in pre-training camp his Achilles tendon snaps in a freak ordeal. He hasn't been playing any hockey, so at least he's been able to spend time with his wifey and their new baby. So he's got that going for him if doesn't have his health.

Justin's working on the powerplay unit today, so maybe he can score a PPG for the Hurricanes on Thursday seeming as they haven't had one since they were the Hartford Whalers. Guess who else was working on the ice to fix the struggling man-advantage? Ronnie Francis.


As they say, "he's in the best shape of his life".

Tell me THAT wouldn't be an awesome thing. I know he won't un-retire, but just thinking about the possibility gives me the heebie-jeebies.
Really, I don't know how to fix the Canes. Maybe a trade. Maybe a new coach. Maybe a house-full of
esteban1949'
s every night at the RBC. The big kicker for me is that the big guns aren't towing their load in Raleigh this season.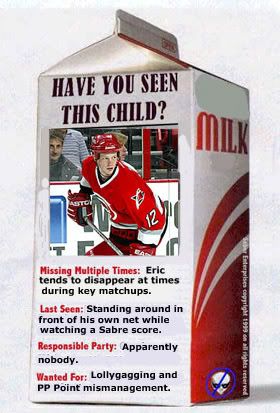 (not sure who's PS job this belongs to, maybe East's)
I'd rather pay to see a team iced with 4 lines of Brandon Sutters and Ryan Baydas
who are ready to play balls-out night in and night out
- than to shell out the cash to pay a hefty salary of a non-producing player. So maybe that's it - Staal wakes up, the team will follow.
Yeah! That'll fix them!
Go Canes!