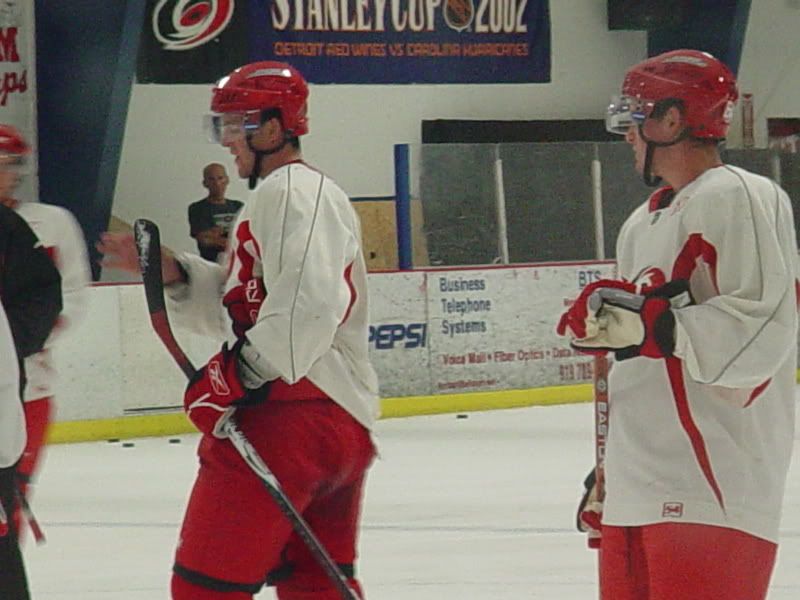 A great look at the Hurricanes' up and comers. (Hockeys Future)
Speaking of which, follow the treads of
Jamie McBain with Wisconsin
,
Kyle Lawson with Notre Dame
and
Nick Dodge with Clarkson U
on their respective quests for the
NCAA Frozen Four Championship
and wish them luck.
Real deal jerseys for a little cheaper, get them a lot quicker. (
Triple Threat Sports
)
Watch out if these guys make it back in time for the playoffs. Who sits from this current lineup? Tough call to make. Williams, LaRose take part in practice (News & Observer)

The RBC Center's website is really up to date. "NHL hockey featuring the stars of the Carolina Hurricanes and other NHL favorites such as Jaromir Jagr, Mario Lemieux, and Eric Lindros"
Whoaa cool! (RBC Center Events)

The newest Fanhouse contributor is starting to like the Eastern Conference. (Fanhouse: Ovechkin Mancrush)

Every single Sports Illustrated article ever. Crazy cool stuff to find. (Sports Illustrated Vault h/t Fanhouse)

Random YouTube moment: Something just doesn't seem right watching Ron Francis throw punches...