AMBER ALERT: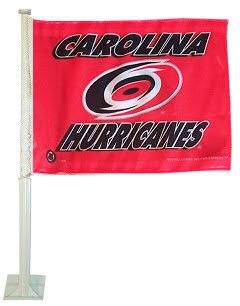 Have you seen me? Missing are several hundred Canes car flags. They are about 18 inches tall, red, and have a Canes logo and the letters "STH" printed on the front. Last seen snapping off cars within a couple of miles of the RBC Center along Wade Avenue, I-40, and Edwards Mill Road. If seen, please contact the North Carolina Division of Transportation; roadside cleanup department.

Holy bad promotion Batman! Can you say "debacle"? It seems that the free 'season ticket holder' car flags are defective. So defective, in fact, that they were snapping off at alarming rates in traffic and carpeting the roadways surrounding the Big ATM after the game on Thursday. In fact, the problem is so bad, I got this e-mail today:


Dear East,

We regret to inform you that due to an unfortunate manufacturing error, the distribution of Season Ticket Holder car flags is being temporarily suspended. Our staff is currently in conversations with the manufacturer, and we will be in contact with you again soon to provide additional information regarding the distribution of corrected products.

We apologize for this inconvenience, and hope you will feel free to call 1-866-NHL-CANES (1-866-645-2263) with questions. Thank you for your support!
Go 'Canes!!

P.J. Avetta Manager of Sales & Client ServicesCarolina Hurricanes


And just whey you thought our promotions department couldn't f*ck things up any worse. Well, they went and bought cheap, defective flags from China or something and it looks like it's gonna bite them in the ass. Of course, this shouldn't really surprise anyone. You don't have to look any farther than Corvo, Eaves or Ruutu to see that this team's management has a history of making deals for damaged merchandise. Of course, it's actually kind of fitting that our flags are like our forwards, in that they are breaking before the season even begins.

Luckily, I still have my STH flag vouchers. I'm not even gonna redeem them now. I'm gonna just duct tape one of those little suckers to my car antenna and be done with it. At least I know that with the duct tape, it'll stay put longer than those piece of crap defective flags did.

And you've got to love this line in the above e-mail:

"...due to an unfortunate manufacturing error..."

Translation: "...due to our buying the cheapest product the Red Chi-nee would sell us..."

And then, there's this gem:

"Our staff is currently in conversations with the manufacturer..."

Translation: "Operator, get me the number for the Kunming Lead-Based Infant Toys and Cut Rate American Chotchke Company, and make it snappy!"

Boy oh boy. What a cluster...